ARFF owes much of its stability and health to the kindness and foresight of one member—Pagey Elliott—whose inspiration and generosity touched many lives. The world lost Pagey in 2009, but through the kindness of her family, ARFF continues to practice at the family's idyllic field. We are forever grateful to Pagey and her family for their ongoing support of our club.
Breeder, Competitor, Citizen Scientist, Author, Friend
​Pagey's interest in horses and dogs began in childhood. Her love affair with Golden Retrievers started early in her marriage, and over 40 years, she and her husband raised about 50 litters under the kennel name "Featherquest". Her involvement in conformation and field trials led her to study dog movement. Her work resulted in ground-breaking research that was first published in 1973 as an illustrated book titled Dogsteps. Over 30 years, Pagey continued her research, published two new editions of Dogsteps, lectured internationally, and won multiple awards. ​ But one of Pagey's best roles was friend. In 1996, after inviting ARFF to use a field at her farm for practice, she took up agility at age 83. Pagey befriended many ARFFers, enriching their lives with her intelligent insights, varied interests, and caring concern. She is dearly missed.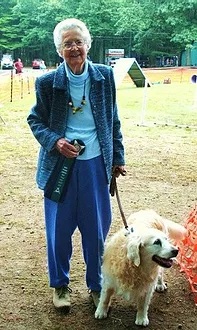 ​In this moving tribute, Sandy Cody describes her first meeting with Pagey Elliott, back at a time when the club was practicing in a parking lot at a church in Wayland, Massachusetts. Pagey invited the newly organized ARFF Agility Club to practice at her farm and became ARFF's first agility student.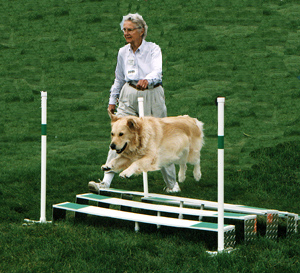 Pagey was an award-winning author and a respected authority on canine movement. A Dog Writers Association of America Hall of Famer and former Dog Woman of the Year, her best-known book is Dogsteps, a highly regarded volume about canine anatomy and movement. Dogsteps: A New Look (3rd edition) helps readers, including dog show judges and breeders, gain a better understanding of dog gait and movement through cineradiography ("moving x-rays").
​Pagey's memoir, From Hoofbeats to Dogsteps: A Life of Listening to and Learning from Animals, provides fascinating insights into her life, scientific forays, and important moments in history. She shares her life experiences as if she is chatting with a dear friend.
​These works, and others by Pagey, are available for purchase from online vendors. A free, one-hour Dogsteps video is available on YouTube.
​